I went back to Russia for the first time in over a year in March. It was a long trip, taking in eight different cities and spread over seventeen days. Planes, trains, automobiles and my new favourite – the marshrutka!
I was holding seminars on three OUP coursebooks: Family and Friends, Solutions and New Matrix for Russia. As usual in Russia, I was made to feel very welcome by everyone and really enjoyed working with the teachers in Tyumen, Omsk, Surgut, Ufa, Chelyabinsk, Yekaterinburg, Perm and Moscow.
Travelling in Russia can be quite stressful, and actually the airports are far more confusing and difficult to navigate than the trains, which – once you have become accustomed to them – can actually be very relaxing. This time I really got the hang of the trains and was able to get lots of rest as we chugged for hours between cities. As a result I found myself much less tired.
There were some interesting experiences in the hotels, like in Moscow where the hotel lift only worked if you put your room card in the slot. Never seen that before. This was the funniest one, though -from a hotel in Tyumen. It says a lot about the tough Siberian mentality 🙂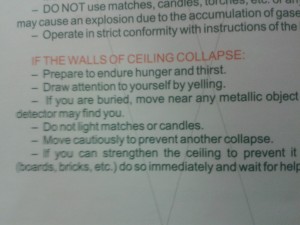 The best thing about Russia is definitely the people. It was great to get the chance to meet some new colleagues and teachers and to catch up with some old friends, too. Looking forward to the next time, whenever it might be!