It's been a hectic week: school, leading another webinar on Wednesday (this time on using dictionaries) for teachers in Russia, then setting off to Ljubljana on Thursday to take part in the OUP Slovenia Conference for the second time.
I love coming to Ljubljana: beautiful city, great people, excellent conference. After what happened last year, though, I was prepared for travel drama. Last year was fairly tortuous, to put it mildly. You can't fly direct from Budapest to Ljubljana, so I was supposed to travel from Budapest via Frankfurt, which is daft enough in itself – I mean, Ljubljana's only 400km from where I live – but things went wrong. Germany was hit by severe blizzards, Frankfurt airport was closed, my flight was cancelled and I ended up catching a rescheduled flight to Slovenia via Skopje.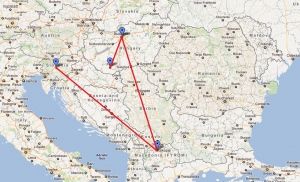 Madness. Then there was the added excitement of throwing together a second talk the night before the conference in my hotel room after it turned out that fellow-presenter Nina Lauder was stuck in Spain. It turned out to be one of the most enjoyable events of the year, though.
This year I thought it might be a better idea to drive, and I even surprised myself by making it all the way there without getting lost, despite not having a proper map or GPS.
And so to the conference on Friday. Michael Swan gave a great talk on 'Grammar doesn't have to be grey' and signed copies of his latest books. Nina also made it this year without any problems, thank goodness. She wowed us with her talk on 'Making vocabulary meaningful and memorable'. It was the first time we had seen each other since our tour of Brazil in the summer, and it was lovely to see her again. We were looked after very well by Metka, Bojana and the Slovenian team, and the whole experience was a pleasure.
As promised, here is a link to a pdf version of the slides of my session 'Gates and Bridges'